Clement Premiere Canne Rhum Agricole
40% ABV/80 Proof
$30
Website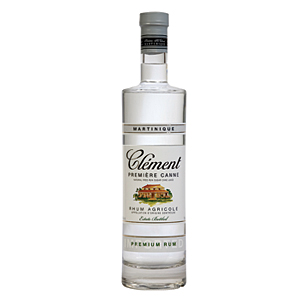 What the Distillery Says:
Produced using selected varieties of sugarcane from Habitation Clément, Première Canne is unique white rum created from fresh pressed sugarcane juice, which spontaneously ferments into an extremely aromatic and flavorful sugarcane wine; and then softly distilled only once to capture the natural aromas and flavors of the tropical appellation of Habitation Clément, following our time-honored tradition passed down from Homère Clément. Première Canne rests for just over nine months in a stainless steel vat and is slowly reduced over time with distilled volcanic spring water, which results in a well-balanced, smooth, super clean, white Rhum Agricole, loaded with character and flavor unlike any other rum in the world.
Volcanic terroir and Clément's tropical appellation lend Première Canne its exotic bouquet and a sensational palate entry with flavors of cocoa bean, bittersweet chocolate, black tea, and unrefined sugar. The mid-palate brings elements of fresh grass and beans preceding a graceful finish with subtle notes of caramelized sugar.
What Richard Says:
Nose: Raw pre-appellation. It reminds me of a slightly sweet whiskey mash in the washback mixed with a nice merlot red wine. Very funky but not necessarily off putting.
Palate: Very floral and grassy. Very little sweetness for a white rum.
Finish: Dry and vegetal.
Comments: This is my first experience with a rhum agricole, much less one from Martinique. It's not what I expected at all. It's like a cross between corn whiskey, white rum, and artisan vodka.
Rating: Stands Out
I would like to thank Shannon Fischer with Handcrafted PR for sending over a bottle for review.