Southern Comfort Bold Black Cherry
35% ABV/70 Proof
$16.99
Website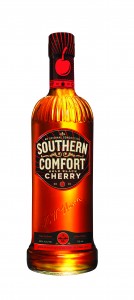 What the Distillery Says:
Southern Comfort was created by New Orleans bartender, Martin Wilkes (M.W.) Heron in 1874. After experimenting with a variety of fruits, spices and other spirits, Heron struck on the perfect combination creating a one-of-a-kind blend of whiskey, fruit, and spice flavors. The new Bold Black Cherry product carries on Southern Comfort's heritage as the leader in the flavored spirit category. The combination of dark fruits with Southern Comfort is perfectly served with cola to enhance the rich, complex flavor.
"The launch of Southern Comfort Bold Black Cherry continues the brand's innovation with new flavors which began with Southern Comfort Lime in 2010 and continued with Southern Comfort Fiery Pepper last fall," said Mark Bacon, VP, Managing Director, Southern Comfort. "We feel Bold Black Cherry will recruit new consumers into the Southern Comfort franchise who enjoy a distinctive flavor profile in their cocktails."
Infused with natural cherry to deliver an authentic taste that's smooth and invigorating, Southern Comfort Bold Black Cherry has been designed to appeal to a broad age range and meet consumer demand for great tasting flavors that are unique. The brand is confident the new expression will continue to increase relevancy amongst younger drinkers, offering a bolder drink that's ideal for high energy occasions.
What Richard Says:
Nose: Classic SoCo with a black cherry Halls cough drop dropped into it.
Palate: Creamy, rich, and very sweet. It's classic SoCo (cherries, vanilla, cloves) with the cherry kicked up.
Finish: Short and sweet
Comments: I like SoCo and I like cherries so inevitably I like this. The cherry they add is a nice riff on classic SoCo. It's not that sickly overpowering cherry you find in a lot of the recent cherry-whiskey liqueurs. Brown Forman recommends this over ice with Coke Zero. That actually makes a nice "adult" cherry Coke.
Rating: Stands Out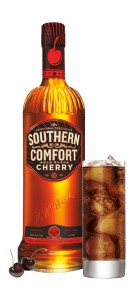 SoCo Bold Black Cherry & Cola
2 oz. Southern Comfort Bold Black Cherry
4 oz. Cola
Lemon Wedge
Fill a glass with cubed ice. Pour in Southern Comfort Bold Black Cherry. Add Cola and
garnish with lemon wedge.
I would like to thank Brown Forman for sending over a bottle for review.