Pappy Van Winkle's Family Reserve Kentucky Straight Bourbon Whiskey, 15 Years Old
Fall 2011 Release
53.5% ABV/107 Proof
$80
Website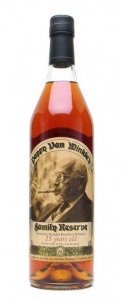 What the Distillery Says:
They really don't say much. Like most Buffalo Trace whiskeys they refer to review PR.
A younger version of our famous 20-year-old Pappy Van Winkle' Family Reserve, this bourbon was crafted according to our exclusive family wheated recipe. The smooth, oak flavor blends well with the barrel proof. Selected from barrels in the heart of our Kentucky warehouse, it has remained untouched for 15 years and unhurried by time. "A whiskey connoisseur's bonanza,…remarkable find…ranks with the best whiskeys," Paul Pacult's Spirit Journal.
What Richard Says:
Nose: For such a lovely bourbon the nose on this is surprisingly coy. It's got a mellow cleanness to it out of the bottle. Bring in the water and out rolls the toffee, nutmeg, and vanilla custard.
Palate: Dear God that's rich! Caramel drizzled vanilla custard with lots of cinnamon and a little dark chocolate.
Finish: The finish is like a warm bourbon blanket wrapping you up. The oak and spice are there but they play a supporting role to everything that came before.
Comments: The contrarian in me wants to hate this because of all the bullshit hype Van Winkle bourbons have surrounded themselves with the last few years. There are no more over hyped bourbon products on the market by a wide margin. If you don't "know somebody" or don't camp out like groupies looking for tickets to see Bon Jovi on the Slippery When Wet Tour then you ain't getting any of this. And the incessant bourbon geek flame wars over which distillery is which bottling from are enough to make me want to hate this stuff without all the hype. (BTW, many thanks to Chuck Cowdery and John Hansell for finally putting THAT to rest) There just one problem with my personal vendetta against this stuff…it's so freaking GOOD! Despite all the ridiculous fervor and all the pseudo bourbon intellectual poser assholes talking it up on the stool next to you this stuff is really good. I don't know why the Weller recipe ages so well but it does. The 15, 20, and 23 are all great. This is the only one you can still get for under $100 although I still wish it was $50 a bottle like it was when I started drinking it. If you have the means and opportunity don't pass this one up.
Rating: Must Buy