Old Rip Van Winkle Kentucky Straight Bourbon Whiskey, Aged 10 Years
Spring 2011 Release
45% ABV/90 Proof
$45
Website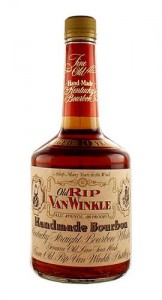 What the Distillery Says:
They really don't say much. Like most Buffalo Trace whiskeys they refer to review PR.
This fine whiskey has as pleasant a taste as any around. The 10 full years of aging combine nicely with its 90 proof. A hint of caramel flavor is enjoyed when one tastes this fine hand-crafted bourbon. This bourbon has a "rich, plush texture" (Tastings.com).
What Richard Says:
Nose: This nose takes a little time to open up. When it does it reminds me of dark fruit drizzled with sweet rum moving towards vanilla. As the glass begins to clear it kicks out huge notes of cinnamon.
Palate: Rich and mouth encompassing. There is a lovely caramel and vanilla sweetness.
Finish: Toasted oak and a nice spiciness.
Comments: Let me caveat what I'm about say by starting with the fact that I like this bourbon. I really do. That said, the Van Winkle hype machine has unfortunately infected every product in their line. This 10 year old bottled at 90 proof (often referred to as the "ORVW 10/90") is a nice bourbon but not worth fighting or scrounging over. For those of you out there that don't know, Buffalo Trace uses the same recipe for ORVW 10/90 that they do for their Weller line. In the 5-7 year range there's Weller Special Reserve at 90 Proof that can be had for as little as $9.99. Weller 12 Year is in the $25 range. But for some reason this is almost twice as much at two years younger just because the Van Winkle name is on it. Is it a nice bourbon? Yes. At $25 or even $30 it would be hard to beat as an everyday pour. However, at this price I'd say try it if you can but don't think this is any kind of must have bourbon. Kudos to Julian and Preston Van Winkle for their PR machine but you can get just as good of bourbon for a lot less coin.
Rating: Stands Out