Woodford Reserve Double Oaked Kentucky Straight Bourbon Whiskey
45.2% ABV/90.4 Proof
$50
Website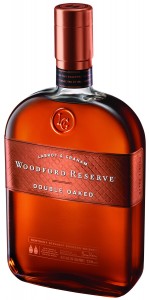 What the Distillery Says:
An innovative approach to twice-barreled bourbon creates the rich and colorful flavor of Woodford Reserve Double Oaked. Uniquely matured in separate, charred oak barrels – the second barrel deeply toasted before a light charring – extracts additional amounts of soft, sweet oak character.
The overwhelming response to our master's collection seasoned oak finish offering inspired us to create a twice-barreled bourbon that is available year-round. Uniquely matured in our handcrafted white oak barrels, the second barrel deeply toasted before a light charring, creates Woodford Reserve Double Oaked – a smooth, full-bodied expression with a long, rich finish that we are proud to share with others who are as passionate about bourbon as we are.
Maturation in a new, charred oak barrel provides Woodford Reserve with all of its natural color and a great deal of its award-winning flavor. This double oaked expression has been uniquely matured in two separate, custom crafted barrels. The second was deeply toasted before its light charring. The double barreling of mature Woodford Reserve in this unique barrel allows the spirit to extract an additional amount of soft, sweet oak character. This unique practice has created bourbon that is rich in honey, chocolate, marzipan and spiced apple character.
Color: Deep amber
Aroma: Rich notes of dark fruit, caramel, sharp honey, chocolate, marzipan and toasted oak.
Taste: A full-bodied mix of vanilla, dark caramel, hazelnut, apple, fruit and spices.
Finish: Long and creamy with lingering hints of honeyed apple.
What Richard Says:
Nose: This reminds me of snickerdoodles with vanilla ice cream: vanilla, cinnamon, and sugar. After it opens up a little the sugar turns into a fruity caramel.
Palate: Holy crap that's good! It's like Woodford taken to the next level. You're hit with a blast of fruity oak infused sweetness but it's not overpowering. Lots of vanilla and caramel. Really tasty.
Finish: Golden delicious and granny smith apples on a long oaky finish that mellow into a rich creaminess.
Comments: Brown Forman says they went for this expression after the response they got to the Seasoned Oak release a few years back. Well, they went out and did one better. This is a worthy line extension and a superior Woodford.
Rating: Must Try
I would like to thank Brittany Gilbert with Brown Forman for sending me a sample for review.