Red Stag Kentucky Straight Bourbon Infused with Natural Flavors
40% ABV/80 Proof
$15 to $18
Available across the U.S.
Website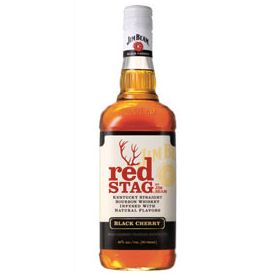 What the Distillery Says:
Red Stag contains all the pride of the Beam Family's 200 year history. Originated by Jaco Beam in 1795, Beam Bourbons are the product of seven generations of pioneering distillers. Like all Jim Beam products, Red Stag Black Cherry is made from the highest quality ingredients. And because it is made with Jim Beam, the world's finest bourbon, it has a delicious taste and is rich with American heritage.
What Richard Says:
Nose: It smells like saltwater taffy floating in generic cherry Nyquil.
Palate: Luden's cough drops (you know the ones in the white box that all get stuck together) with a Jim Beam chaser.
Finish: It's like cherry generic Nyquil on the finish.
Comments: Do I hate it? No. It's not as appalling as the popular nickname "Reg Gag" would imply but i'm not going to buy a bottle. I'm also not the target market for this product. I think among flavored/infused whiskeys this is one of the better ones. I'm going to pass on this but if you're inclined to give it a try then by all means.
Rating: Probably Pass