Wild Turkey 81 Straight Bourbon Whiskey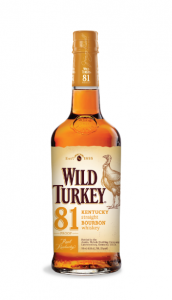 40.5% ABV, $20
Available: Throughout the US
What the distillery says (Matt's interpretation of the press release):
Wild Turkey 81 is Eddie Russell's first solo project for the distillery. After cutting his teeth working with his father on the Russell's Reserve bottlings (and one could assume the rest of the Wild Turkey portfolio), Eddie comes out of the gate with a whiskey specifically designed for cocktails. With WT 81, Eddie hopes to hit the niche that finds Wild Turkey 101 a bit too harsh and other whiskeys too wimpy for mixed drinks. He uses the classic Wild Turkey high-rye mash with heavily charred barrels and blends whiskeys ranging from 6-8 years of age. The press release has this to say about the WT 81:
The result is a whiskey with a deep, rich amber color, and a nose full of fruit, butterscotch, toffee and toasted oak. On the tongue, you discover cigar-box sweetness, caramel, vanilla and pear, with a long finish of rich spice notes and hints of toast.
What Matt says:
Nose: Citrus, mint, caramel, oak, and shellac
Palate: A little sharp, acidic and warm, mint and caramel, rye spice and a little char
Finish: Clean and malty with a lingering sweetness
Comments: A little water mellows the sharpness on the palate, but (as expected) this whiskey really shines in a cocktail. With all the natural mint flavors, I decided to throw together a quick Mint Julep. To my palate, Eddie Russell reached his goal here. I'm not a big fan of Wild Turkey in general (with the exceptions of Kentucky Spirit and certain bottlings of Russell's Reserve), but there is a good balance of rye spice, caramel sweetness, proof and char to the 81. Plus, it retails for $19.99. You can't really beat that.
Richard has not had the opportunity to review this whiskey yet.
Special thanks to Brian Roundy at The Thomas Collective for the generous sample.