The Isle of Jura Superstition Single Malt Whisky
45% ABV/90 Proof
$53
Widely Available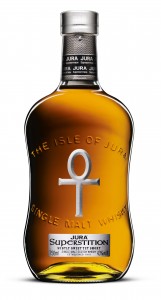 What the Distillery Says:
Jura Superstition – individual yet mysterious. Crafted from a selection of the finest aged Jura single malt whiskies, this spirit has a unique style and character. A reflection of the past, the present and a wonderful Island. A single malt to be sipped and savored with respect.
Color: Deep, intense, rich mahogany with glittering golden highlights.
Nose: Firm and positive, yet forcibly mellow. The long maturation in American White Oak has nurtured this noble spirit although subtle accents of complex phenolic aromas drift attractively in the background.
Taste: These dramatic, complex aromas are carried onto the palate as the warmth of the tongue slowly releases its many mysteries. Spice, honey, pine and peat aromas with a whisper of smoke make a dramatic impact. Thanks to the different ages selected 13 and 21 years old the mystic spirit has been tempered and tamed. Even the driving rain and biting cold winds which are part of the island's heritage have made their own mark.
Finish: Long, lingering, tantalizing finish.
What Richard Says:
Nose: A little sharper and more aggressive on the nose than regular Jura expressions. Peaty and vegetal.
Palate: Jura meet Caol Ila. The delicate Jura nature is still there but there's and Islay overlay. More Caol Ila that Laphroaig or Lagavulin. Lightly smokey with a sweet toffee creaminess.
Finish: Pine, smoke, and a little salty spice.
Comments: This no age statement Jura is a mix of whiskies between 13 and 21 years old. It's clearly not an Islay but the peat kicks this dram above and beyond the standard Jura offerings.
Rating: Stands Out
What Matt Says:
Matt has not had a chance to review this whisky yet.
We would like to than Laura with The Baddish Group for providing us samples for review.